- - - - - - - - - - - - - - -
k &nbsp e &nbsp g &nbsp &nbsp s &nbsp a &nbsp l &nbsp a &nbsp d


THE MUSIC:
&nbsp Keg Salad plays thoughtful, melodic rock-folk music. Most of the band's repertoire is original, although a few cover tunes pop up in the mix, by such songwriters as Patti Smith, Ray Davies, Bob Dylan, Robert Burns (yes, that Scottish wonder), and John Lennon, and by such bands as The Clash, Mott the Hoople, The Grateful Dead, and The Jacobites. The band has also recently added Irish and traditional folk numbers, and plans to continue adding more songs and instrumental pieces along those lines.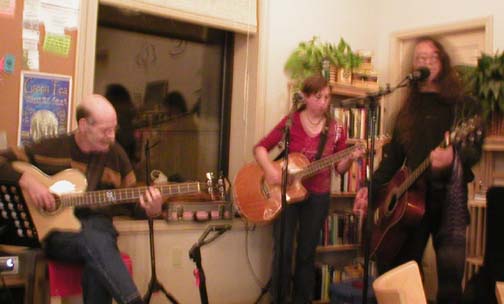 THE GIGS:

&nbsp Keg Salad plays shows lasting from one to four hours. The band has played venues including Clark Place (Stevens Point), The Keg (Stevens Point), Portal Music Cafe (Madison, Wis.), IQ's (Green Bay), Meyer's Landing (Knowlton, Wis.), C.D. Pub (Wisconsin Rapids), From the Ground Up (Wisconsin Rapids), and Pine Line Cafe (Medford, Wis.).
&nbsp Keg Salad has also played at The Intermission (Wausau), Emy J's (Stevens Point), Tiki Bar on Dubay (Mosinee), Chez Marche (Waupaca), and Renee's Red Rooster (Stevens Point).
&nbsp Check out the calendar.
&nbsp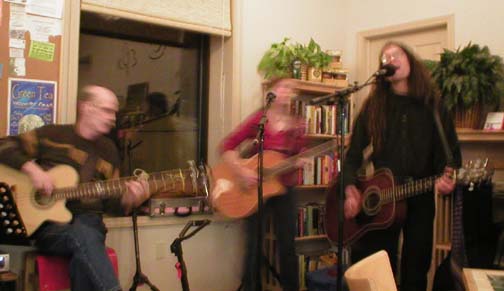 THE BAND:

&nbsp Keg Salad has played the majority of its shows as a two-piece featuring Mark Rich and Martha Borchardt, acoustic guitars and vocals.
&nbsp With the addition of Marty Nellessen to the group, some evenings will be trio events featuring Martha on guitar and vocals, Marty on banjo and vocals, and Mark on guitar, violin, mandolin and vocals.